About the English Service
---

Dongshin English Church is a dynamic and energetic community of English speaking foreigners and Koreans, where you'll find support, friendship and like minded individuals from back home.
But more than just a great place to meet fellow foreigners, we're also a place you'll find food for thought, solid and relevant Christian teaching to empower and sustain you as you sojourn in Korea.
As a Christian community of foreigners and Koreans, we've been growing since 2001 and are currently the largest non-Korean worship service in Daegu.  We're a broadly evangelical church and though our sister church (Dongshin Church) is part of the Presbyterian denomination; our English services are geared towards people from a wide variety of backgrounds.
That means that you'll probably find our style and way of doing things comfortable, though in small details, we might be different from your church back home.
We've always got a lot of stuff going on throughout the year.  Aside from our regular weekly services, and weekly small groups we have many monthly social events and get-togethers.  See the events page for a look at what's going on.
We do hope to meet you face to face, but in the meantime if you have any questions, feel free to get in touch with us.
PS: The most regular question by far, that we get from visitors to our website, is how to get to us!  The Directions page has detailed step-by-step information on reaching us via taxi, subway or bus.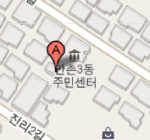 ---